The Successful Speaker Mastermind
Led by Alicia White
Are you leaving money on the table when you speak?
Do you get overwhelmed on everything you need to do for a speaking gig?
Are you ready to grow your business with speaking but don't know where to start?
Getting answers to questions like these is hard when you're working alone. You spend hours scouring websites for information, and even when you find it, you aren't exactly clear on how or where to begin.
Well, why work alone when you can get help from a group of supportive and encouraging people? A group that is led by someone who really cares about your success and can answer your questions and get you through the rough spots?
A 6-month program, The Successful Speaker Mastermind is designed to move you forward in your speaking practice and with intention and clarity. You'll receive direction on what to do next, strategies and ideas that get results, and encouragement and accountability from someone who knows how to get you there - me, Alicia White, International Speaker and International Best-Selling Author.
There are many benefits for joining this mastermind, besides accessing my brain, you get:
Access to Private Facebook group for feedback and support between calls
The Ultimate Checklists for Speakers, strategies to get the most out of speaking
Increased clarity
Define and achieve real progress with peer accountability
Brainstorm ideas for navigating current challenges
Gain confidence in decision making
And most importantly, you don't have to do this alone! And it's so afforable: $47 per month with a six month commitment.
YES! I want to join the mastermind!
Information About The Successful Speaker Mastermind with Alicia White
What is a mastermind group?
A Mastermind group offers a combination of brainstorming, peer review, accountability and support in a group setting to create the success you want.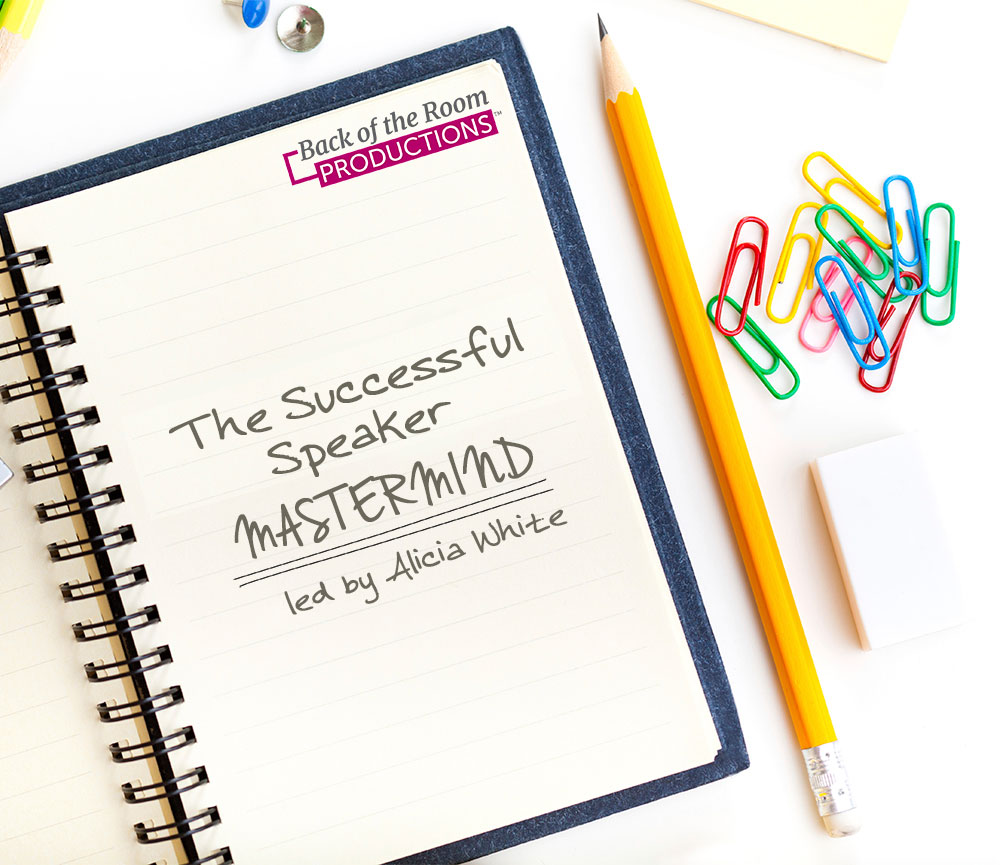 Who is this group for?
People who want to use speaking to grow their business: coaches, business owners, entrepreneurs, freelancers, and authors. The group will consist of positive, like-minded people who are willing to ask for help and give help in return and ready to do the work necessary to grow.
What is the goal?
The Goal of this group is to come together regularly to offer support, collaboration, encouragement, accountability and provide help you with your speaking challenges.
What happens on our calls?
Each person has 12 minutes to state their challenge and receive feedback
The whole group makes suggestions, gives ideas, and provides input
Prepare and share weekly goals for accountability
When do we meet?
Group meets for one and a half hours once a month for six months.
Dates and times will be supplied.
We meet via Zoom conference call, which offers video or audio options. (Click here to download Zoom for free.)
Group call is recorded for later access.
How much does it cost?
$47 per month with a six month commitment. Payment options: one payment of $282 or a payment of $47 each month for six consecutive months.
Group Guidelines:
To be accountable to yourself and your group by stating what you are working on and sharing your results
Must agree not disclose private information shared in the group
Commitment to the group is critical, as well as staying for the entire call
Be respectful of others and their time
Provide criticism in a constructive and positive manner
Group is limited to no more than six people
Remember, YOU DON'T HAVE TO DO THIS ALONE! LET'S GET THINGS GOING!
YES! I want to join the mastermind!