BOOK ALICIA
Are you looking to book a value-driven speaker for your event or conference? Alicia White loves sharing branding tips and giving speaking advice to audiences around the globe.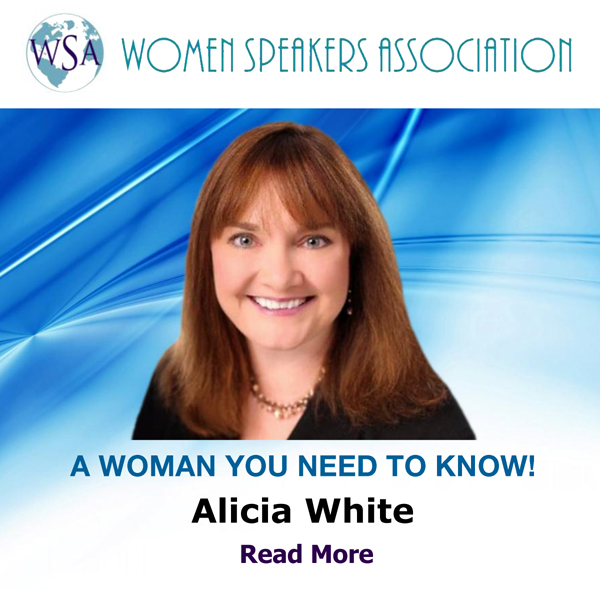 A Speaker and International Best Selling Author, Alicia White gives expert strategy on how to grow your business through pubic speaking, branding, product creation, Speaker One Sheets, and marketing at the back of the room. Alicia outlines the must-have tools and strategies to help coaches, consultants, authors, business owners, thought leaders and trainers succeed as a speaker and generate leads and revenue whenever they speak. With over 20 years of branding and graphic design experience, Alicia also shares how having a solid brand presence and savvy marketing techniques will impact the audience and increase the trust factor.
A valuable resource in the speaking industry, Alicia serves as Partnering Director for the Public Speakers Association. She was recognized by Women Speakers Association as a "Women You Need to Know" and twice nominated for Public Speakers Association National Collaborator of the Year. She has international appeal, appearing on podcasts and internet radio/ TV shows around the world. Alicia's book "The Successful Speaker's Handbook: Tools, ideas and Strategies to Elevate Your Expertise as a Speaker" is available on Amazon.
Schedule a call now to learn how Alicia can deliver real information to your audience!
Rave Reviews from Industry Experts
"Alicia White's presentation gives speakers confidence they can advance exponentially as a professional by packaging themselves effectively and having the right back end assets to monetize their message. She offers great wisdom and a pathway to profits."
Jackie Lapin, founder of Speakertunity

"I was WOWED by Alicia White's presentation at the Women of Splendor event. Not only did she bring incredible value but was a breath of fresh air with her unique style and approach to the content. I would recommend her over and over again and have booked her for my 2014 Public Speakers Conference!"
Tonya Hofmann, CEO & Founder Public Speakers Association

"Alicia has been a speaker for the Women of Splendor 4-Seasons of Success Event, and WOW! what an exciting session. She has the gift of engagement, sincerity, and connection, and her audience "gets" why she is there. She helps people make needed changes while they are being entertained. I look forward to having her share with our audience again."
Margo DeGange, M.Ed. Founder of Women of Splendor and Splendor Publishing

"Alicia White has the ability to bring the technical world into language that makes sense and is easy to understand by her entire audience. Her natural ability to bring the passion for her work come to life is both engaging and endearing. Alicia is authentic in her style and she effortlessly draws people into her words and her message."
Candy Barone, CEO & Founder, You Empowered Strong (Y.E.S.), LLC

"Alicia White served as a panelist at my Marketing, Media and Money event in Dallas, TX. and shared branding strategies about speaker sheets, materials and how to use them effectively. She did an amazing job and my audience walked away with actionable steps to implement and take action. I received lots of positive feedback from my audience as well as requests to have her back."
Patty Farmer, Marketing Strategist, International Speaker, Author, Radio Host and Event Producer
Testimonials
ALICIA'S SPEAKING TOPICS
Speak Your Way to More Clients: Public Speaking for Business Development
Business experts have found that public speaking is the number one way to maximize their time in promoting their service or product. Attendees receive step-by-step direction on how to use public speaking to market their business effectively, including:
why speaking is the BEST MARKETING PLATFORM to grow your business
the importance of DELIVERING VALUE versus a sales pitch
how to GENERATE LEADS every time you speak
when to SAY YES to the right event
The Three Cs of Branding: The Building Blocks to Getting Noticed
Speakers, Coaches, Consultants, and Business Owners learn how to stand out in the sea of noise and get their message heard. Alicia presents three important branding strategies that will up level their marketing efforts. Attendees learn tactics they can implement immediately, such as:
gain clarity on who they serve
build credibility and trust through branding
positioning to attract clients willing to pay top dollar
ensure prospects know exactly what they do
How to Get Booked as a Speaker: Tools and Strategies to Speaker Tools and What to Include
Speakers need to know what it takes to get the attention of event organizers and prospects Alicia outlines effective speaker tools to help them promote their message and specific information to include to get booked. After this hands-on presentation, participants walk away with details they can implement immediately, including:
the top effective speaker tools for marketing
tools and strategies needed to get booked
products that generate leads and revenue
About Alicia